PERSONAL ACCOUNT IN MELBET AFFILIATE PROGRAM
A personal account consists of a Main Menu, Marketing Tools and Statistics section. Let's take a look at all this sections in more detail.
1. MAIN MENU OF AFFILIATE PROGRAM
The main page displays graphs of statistics and results.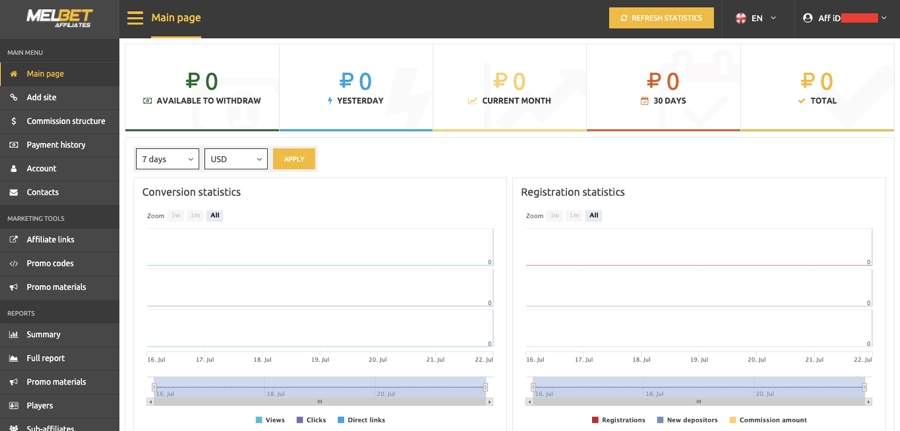 Top. At the top is your financial performance – namely your earnings. When the amount reaches 30 euros, it will appear in the "available for withdrawal" field. With the rest, I think it's clear.
Left graph. The lower left graph shows the number of clicks, banner views (if you take them from your account) and direct links (in fact, this is the number of clicks on your referral link).
Right graph. The bottom right graph shows the number of registrations, new accounts with deposits and earnings. The number of registrations and accounts with deposits is about different things. 100 players can register and 20 players can deposit.
Statistics. At the very bottom of the page, statistics are displayed in numbers (registrations, accounts, deposits, income and your commission – earnings). You need to select "current month"
However, this is brief "depthless" information. In the section Reports -> more detailed statistics (shows much more detailed and more accurate).
Is it clear from the main? Ok, let's go through the menu items!
In the "Add site" section you can add more websites and groups if you have several. After that, you can make separate promotional codes and referral links for each site or group / channel. After that, you will have the opportunity to view statistics for each site. And deeper.
You can also add not a site to the field, but any value that will help you identify traffic (for example, the name of the country – geo, or the name of a website without a domain zone).

1.3 Melbet Commission structure
This page shows what commission is set for you. At the first stage, everyone gets 25% of the bookmaker's income (i.e., the players' losses). If you want more, please discuss it with your manager.

1.4 Melbet Payments history
Shows the history of how many and when payments were made. Payments are made when your earnings reach at least 30 euros, on Tuesdays. In order to set up automatic payments, contact your manager. The settlement period is from Monday to Sunday. The payment for the previous week is made on Tuesday.

Everything here is simple and clear – your data. BUT! we strongly recommend installing 2 step auntification (Use Google Authenticator) in order to protect your account from any scammers. You are solely responsible for the data from your affiliate account.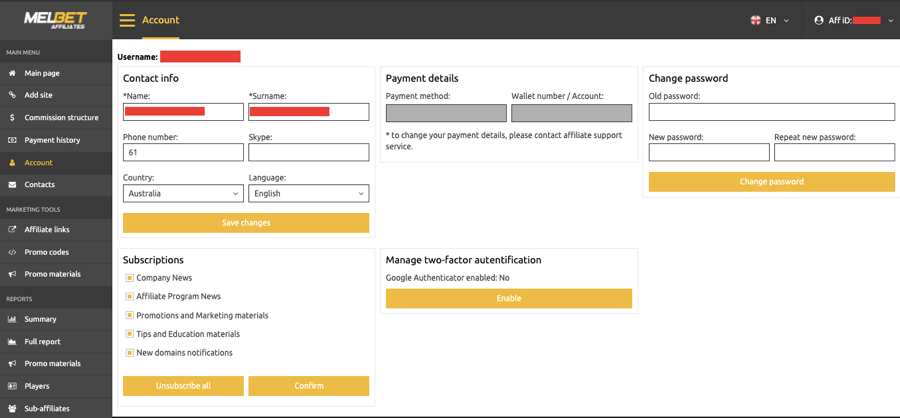 The page shows support contacts.

2.1 Melbet Affiliate links
In personal account – in the Affiliate links section – click on the generate button to create your own link

Copy the generated link and send to your manager to check if its correct.
If you want to make your link shorter you can do that through cutt.ly, bit.do or through other services.
More about Melbet affiliate links
Link to registration page
You can insert into the field "landing page":
/user/registration.php
And your affiliate link will lead to the registration page in Melbet

Link to mobile applicationAlso you can insert into the field "landing page" :
/mobile
And your link will lead to a page where people can download the Melbet mobile application
Sub id
When you need to track several sources (several telegram channels, whatsapp or your website). You can create several links – each for a separate source. You can insert into the field "SubID":
telegramAnd you will be able to track the clicks, registrations and deposits from the telegram separately. If you use this link only in a telegram to attract users.

Promo codes (In personal account – Promo codes) – here we can generate up to 20 promo codes.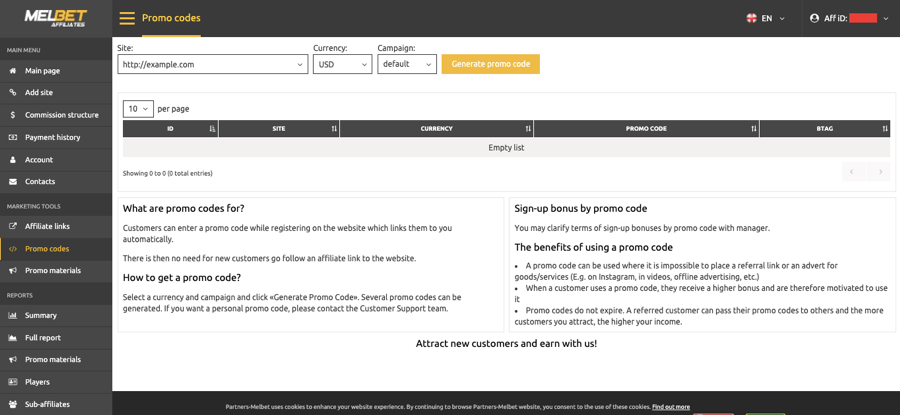 The promo code is created to make it more interesting for your subscribers to register from you.When players register for the first time at the Melbet website, they will get 100% bonus of their fist deposit (deposit up to 100 euro / 100$).
In two words, they can double their deposit amount by receiving a 100% bonus. But only up to $100 (or equivalent in any currency).But with your promo code they will get 130% bonus. But only up to $130 (or equivalent in any currency).
100% bonus (up to $ 100) – 130% bonus (up to $ 130).
Equivalents in different currencies:
European Union (EUR) – €100 – €130;
American dollar (USD) – $100 – $130;
Australia (AUD) 140 AUD – 180 AUD;
India (INR) 8000 INR – 10000 INR;
Russia (RUB) – 8000 RUB – 10400 RUB;
Nigeria (NGN) – ₦100,000 – ₦130,000;
Kenya (KES) 20,000 KES – 26,000 KES;
Brazil R$ 500 – R$ 650;
Ghana (GHS) – Ghanaian Cedi (cedis) – GH₵ 600 – GH₵750;
Etc.
ExampleI will give a simple example about first deposit bonus.
1) Without promo code. Mark entered your promotional code at registration and made his first deposit of $ 30. In his account he will receive $ 60. He can double up to $ 100.
2) With your promo code. Mark entered your promotional code at registration and made his first deposit of $ 30. In his account he will receive $ 60. He can double up to $ 130.
There are certain conditions for wagering the bonus.
However, the promo code is "stronger" than the link. If Mark follows someone else's affiliate link, but enters your promotional code, he will be considered to have come from you.
Promo code by yourselfBy yourself generating promotional codes, you can get standard promo codes.
They will be like: ml_6 ### 7

Unique promotional code (created only through the manager)You can ask your manager to make you a unique promotional code upon your request (for example HOTWIN or something similar with English letters and numbers, up to 10 characters).

2.3 Melbet Promo materials
In the section of promo materials of Melbet Affiliates platform you will find actual banners, animations for websites. In different languages, for different countries to advertise sports betting and casino. Different sizes.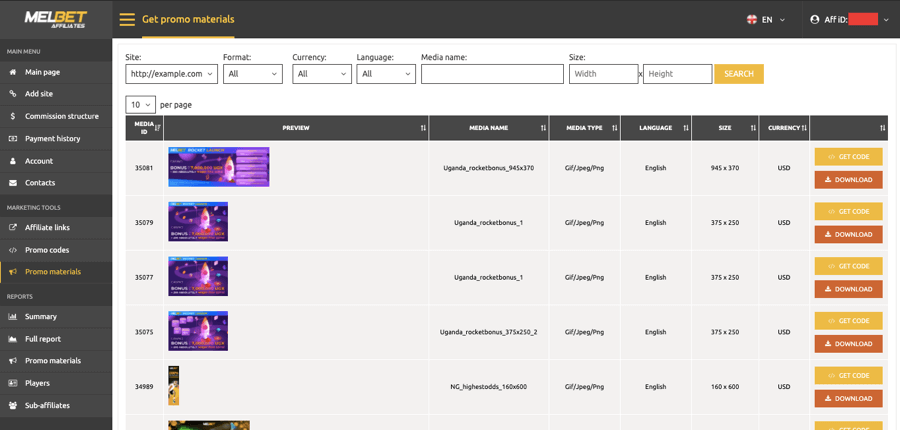 Custom promotional materialsIf you need marketing materials for the website, for email marketing campaigns, or other sizes – ask your manager.
Social media banners with your promo codeWe have different web designers. You can ask your manager to make banners for Telegram, Whatsapp, Facebook, Twitter, Instagram and others. Banners can be made in any language, in any currency.
For animated banners – contact your manager.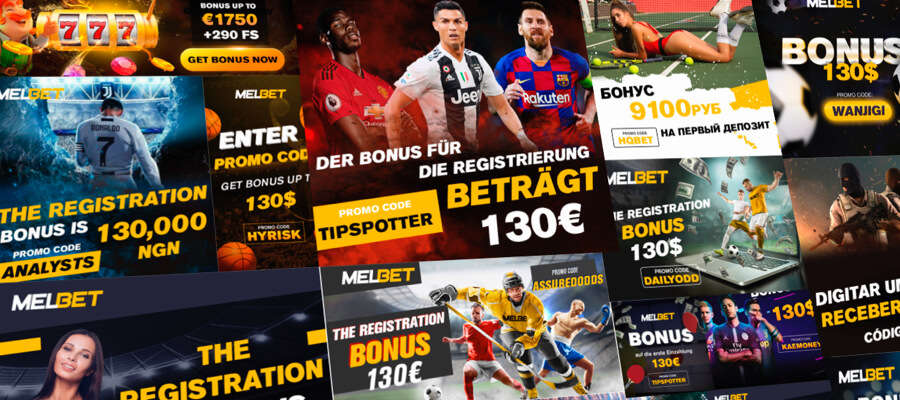 In the Melbet affiliates program you can make the most detailed reports. You can generate and export general reports in a large number of metrics, reports on promotional materials. Moreover, you can make in-depth reports on the players.
Please note that statistics of registrations and deposits are updated every 30 minutes. If you do not see a deposit from a player, although you know that he made a deposit – wait a while, there may be delays.
In personal account – in the Reports section – Summary:
Select the period you want to receive information about and click on the "generate" button

You will receive a summary report containing 21 metrics. Find out statistics quickly, in just a couple of clicks!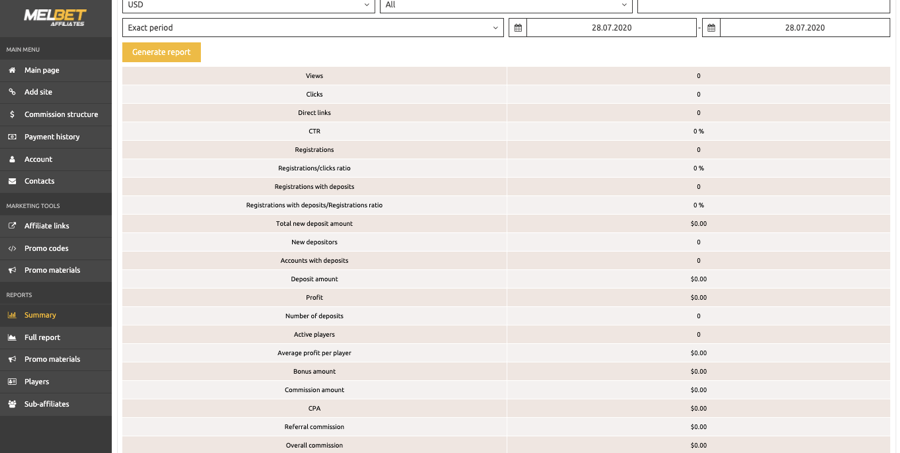 Full report on all sources (if you have several). Full reports can now be exported!
3.3 Promo materials report
The report about promotional materials is relevant for those who use banner ads on websites and other sources. Codes for banners of various sizes can be found in the "Promo materials" tab (Marketing Tools section).
The report contains ID media, Sub ID, information on registrations, deposits, profit and your commission from each marketing tool.
All players
Player report is the most popular! It can also be exported. Now you can find any player registered from you, look at their statistics. Country, player ID, what source they registered from, what deposits they makes and their results.
New players
In addition, you can only make a separate report about new players only.
When there are a lot of players, this will help you analyze your progress in the results for the last week, for a month or for any other period of time.
Non-depositing players only
Another report can be made for players who have not yet made a deposit. If you communicate with your players and know their ID, you can motivate them.