Sales cooperation in Telegram; Comprehensive Telegram Affiliate Marketing Guide
With 40 to 45 million Iranian users, Telegram is a good platform for online businesses. Telegram space is such that with its extensive facilities, you can have a closer and more intimate relationship with your customers. Due to being filtered and as a result of not using Telegram extensively in digital marketing, you have less competitors in this medium and with some effort and optimal work, you can become one of the best owners of online businesses. If you are looking to make money from Telegram, the online monetization model "Cooperation in sales in Telegram" can bring you a high income.
In today's modern world there is always a need for an industry like digital marketing. Especially after the corona outbreak, the existence of a job that is not limited to the customer in a specific geography and time is felt more than ever.
The variety of digital marketing techniques has made it very easy for you to communicate with your audience and customers through electronic devices. One of the branches of digital marketing and of course business ideas on the Internet is "sales collaboration in Telegram". To be more successful in earning money without capital in Telegram, it is better to be more familiar with its principles and possibilities first of all. In this case, your success will naturally be more impressive. First, we will get acquainted with the types and how to build a telegram channel.
Types of telegram channels
Telegram channels are classified into two types: Private and Public.
Private channels:
Available to channel members only and not displayed in public searches. To subscribe to these channels, you must receive the link from the channel admin. Private channels are a great option for companies, institutions and departments. It is good to know that it is possible to convert these channels to public channels at any time.
Public channels:
They are displayed in public searches and users can easily subscribe to them. Even their content is accessible to those who are not members.
Step by step, build a telegram channel
Creating a channel in the desktop operating system: First go to the menu (symbol of the three wing lines). Then click Create New Channel and simply create your channel by specifying the name and profile.
Build a channel on iOS: On the chat page, tap the new message icon (top right-hand corner). Then select New Channel.
Build a channel on the Android operating system: First, open the list of chats. Then click on the menu icon and select New Channel.
After these steps, the choice of channel type (public or private) is with you.
What is the meaning of cooperation in sales in Telegram?
Before entering the Telegram section, we need to know what sales cooperation is. Affiliate marketing is one of the most popular ways to earn money. It is a system in which people promote the products and services of brands.
You will receive a commission if users refer to the target site with your ad. In fact, advertisers are out of business. Affiliate marketing 2021 is done in different cyberspace such as Telegram, Instagram, websites, Twitter and so on. Although getting acquainted (gain, obtain) with affiliate marketing sites can help you increase your online income, it is not the only way to earn money without initial capital!
Currently, social networks such as Rubika, Instagram and Telegram are among the best media to earn money online. For more information on this, you can use the following links:
What are the benefits of cooperating in sales in Telegram?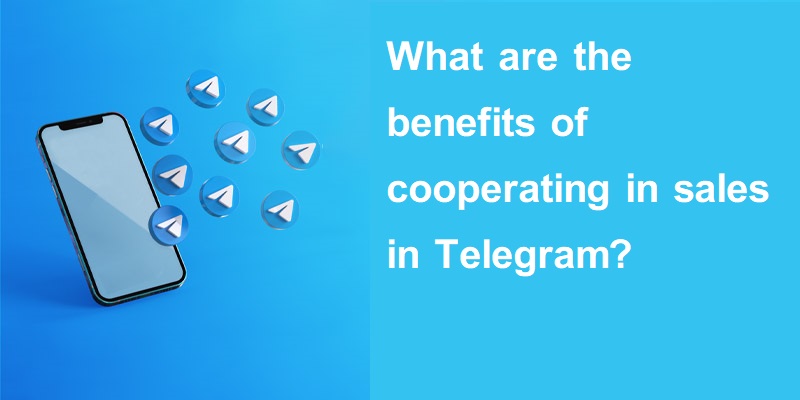 Each of the platforms in which sales cooperation is implemented in Iran, certainly have their own unique methods and rules. Instagram, Rubika, Trump, Wall and many other platforms on which affiliate marketing is currently taking shape.
Obviously, we can not say for sure which of the platforms is better or worse; Because the conditions of use as well as the target community and our strategy are very influential in this work.
But what are the benefits of affiliate in Telegram? The following is a list of these benefits:
1- No need for much capital
You do not need to invest a lot of money to start affiliate marketing in Telegram, and it is even possible to earn money from Telegram without capital. The only thing that matters in this business is the efficiency of your ad.
2- No need for much specialized knowledge
You do not need accurate and specialized knowledge about the product. For example, if you are promoting Minecraft packages, you do not need to be proficient in the content of the packages.
3- The possibility of advertising several products from different brands
It is possible to advertise several products from different brands for advertising publishers. In fact, you are not limited to a particular brand. In that unit, you can collaborate on sales for several brands in Telegram.
4- No restrictions on the means of communication
Collaborating in sales on Instagram, which we described earlier, is not limited to mobile phones like Telegram. In addition to mobile phones, Telegram is also installed on laptops and computers. It also has a web version. Even Windows Phone operating system users can use this program. As a result, your audience is much wider than other programs.
5. Being free
Creating a telegram channel is free and does not require much knowledge.
6- Very high audience community
It is possible to reach the audience without geographical and time restrictions.
What are the main pillars of Affiliate Marketing?
Brand: Brand owners, through affiliate marketing, increase the number of potential customers and sales of their products.
Affiliate Marketer: Advertising publishers can be bloggers, websites and influencers who receive commissions depending on how many users visit their ads.
Customers: They buy their favorite products and services by buying from the ads and links provided by publishers.
Tricks of cooperation in sales in Telegram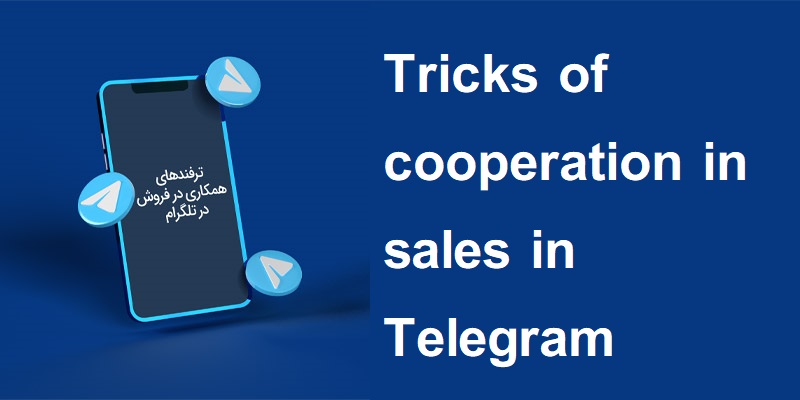 To succeed in Telegram, it is better to be familiar with the tricks of cooperation in sales in this platform. These tricks help us to know how to make money and sell millions by participating in sales. Some of these tricks are:
1. Focus on increasing your channel trust
You will not be able to sell in Telegram unless your channel has gained enough user trust. The audience must be sure that you are presenting effective and credible ads and content.
2. Know your audience
Get statistics from your channel members on gender, age, interests, and more. Your channel bio members are very useful for recognizing them.
3. Do not publish any content
Audiences will subscribe to and stay in your channel based on your posts. They will leave your channel if they do not find your content useful and effective. Providing effective content also helps increase member trust.
4. Be aware of channel announcements
Turn off your notifications if you post multiple posts every day. Otherwise members will encounter a large number of notifications which is annoying. Eventually they will ignore the posts or leave the channel and you will fail to cooperate in the sales in Telegram.
Key points for managing the Telegram channel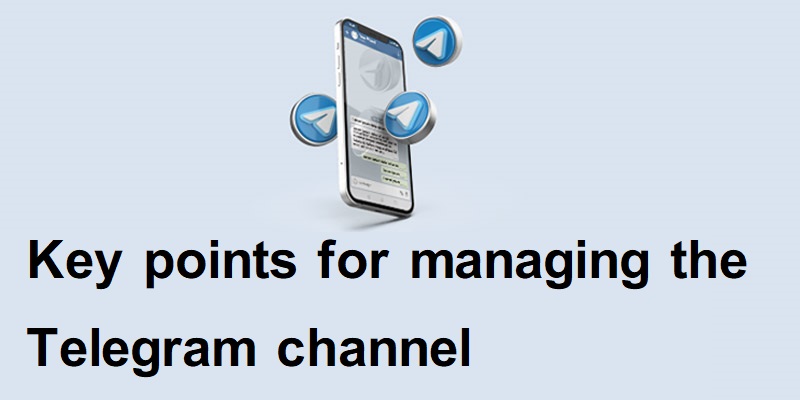 1- First of all, specify the subject and format of your channel content. When the main topic of your channel is clear, the audience can easily access their content. In addition, your mind has a specific order and purpose for producing content and works purposefully.
2- One of the capabilities of Telegram is the possibility of specifying the task of each of the admins. If you have a large and productive channel, hire several admins and divide the tasks between them. For example, give one of the admins just the ability to publish and edit content.
3- Use hashtags optimally. Hashtags are one of the fastest ways to get users to the information they want. Use them for all your posts and categorize your content with them in a specific way. When choosing hashtags, consider the following:
Do not use long, compound hashtags of a few words. Try using short and relevant hashtags.
Write in the language of your target audience. For example, test which one has more searches among your audience: affiliate marketing in Telegram or affiliate marketing in Telegram
4. Use polls. Until a few years ago, you had to use bots for polls, and that was a bit complicated. Now, despite Poll, polling has become easier. Check the PIN at the bottom of the page next to the message. Then click on Poll and specify your question. simply!
Using surveys is a powerful strategy for identifying your target audience. Once you know your audience, it becomes easier and more efficient to choose the content and topic for the posts. Be sure to consider the interest of your audience types in the poll options to get the best results.
5. Consider using robots. Telegram bots help Telegram users as third parties. Bots are classified into two types, foreign and Iranian.
External bots: This type is added to the channels as an admin, which helps the admins manage the channel and cooperate in sales in Telegram. Some of them are:
@ControllerBot: A universal tool that adds features to your posts. Such as sending by postponing the post, the possibility of voting with emoticons, viewing statistics, sending comments for posts and…
@mrkdwnrbt: This bot helps format your posts.
@TGStat_Bot: Using it, you can compare your channel with competing channels according to criteria such as number of members, access to a post, number of views per day and..
@chotamreaderbot: Allows you to transfer content from various sites in any format.
Internal robots: They are called by a signal in the channel. A variety of internal robots are used to interact with members. The most popular are:
@like: This bot adds the ability for users to vote for content using emoticons and express their views.
@vote: An advanced robot for anonymous voting.
6- Choose the appropriate username. The channel username must have two main features. The first is that the name is not irrelevant and is related to the content of the channel. Second, it should be short and specific. Do not choose a strange or obscure name. The username should be clear and simple to stay in the minds of users.
7- Specify the schedule of your posts. Preferably do not post at night; Because users turn on their notifications at night, this can be annoying for them. According to statistics, the peak of sending posts in cyberspace is at 8 am, 6 pm and 8 pm. Also keep in mind that you do not sacrifice quality for quantity. A good quality post is better than publishing 5 worthless posts.
Conclusion
Before building a Telegram channel and earning money through "Sales Cooperation in Telegram", keep in mind that you must have content and products to offer. Providing duplicate and worthless content will cause you to fail to make money from Telegram. In order to follow the right path and not make mistakes, it is better to follow the examples of successful sales cooperation on Instagram, Telegram and.. If you need advice and help in this regard, you can contact Diane Affiliate Consultants through the numbers available on the site.
Frequently Asked Questions
Why is Telegram a good platform for sales cooperation?
Building a telegram channel and earning money from it is free and does not require extensive science and knowledge. Also, its intimate atmosphere has led to a close relationship with customers
What is the advantage of cooperating in sales in Telegram?
You can use a large number of customers without geographical and time constraints to cooperate in sales in Telegram without huge capital.
What should be done to gain customer trust in Telegram?
Produce credible and efficient content and avoid publishing posts from unreliable and inaccurate sources. Do not present inappropriate and worthless advertisements and be sure of the credibility of your advertisements.